Sustainable balcony solutions for every building
Balustrades
Balco's open balcony range includes a wide variety of customisable, sustainable, modern and attractive balconies for all developments and building types. Every solution is adapted to the specific conditions of the site, meeting all safety requirements.
Our comprehensive balcony solutions can include everything from initial drawings to installation; each project is entirely bespoke to the client's needs and circumstances. We work together to identify a system that best suits the individual balcony project, in terms of both material choice and appearance. Our proprietary and sustainable products provide direct customer benefits, such as enhanced standard of living for residents and added sales value.
Contact us
Our open balconies – in detail
The balcony slab
Balco's own factory-made balcony slab
ConFe is made up of a galvanized, powder-coated, steel frame. The frame is constructed of rectangular, hollow steel profiles, which makes the construction stable and long-lasting. Attached at the top of the steel frame is a 70 mm thick reinforced concrete slab. The rebar is totally encased for maximum protection from corrosion. In addition, air pore formers work as expanding vessels, where the water is allowed to freeze without destroying the concrete.

ConFe can be delivered with or without built in drainage. With the drainage system, the water is led from the edge of the balcony slab to a pipe attached to the external drainage system.

The steel frame and the balcony slab are available in any standard RAL colour.
Balustrades
The choice of balustrades or cladding can significantly change a balcony's appearance and the character of the facade. We have a vast number of options when it comes to colour, material and design to suit every project. The cladding can be fitted from the inside or externally.

Juliet Balconies
Custom-made to the required size, with a choice of coverings from our range. The balustrades are firmly bolted to the facade with the necessary fixings.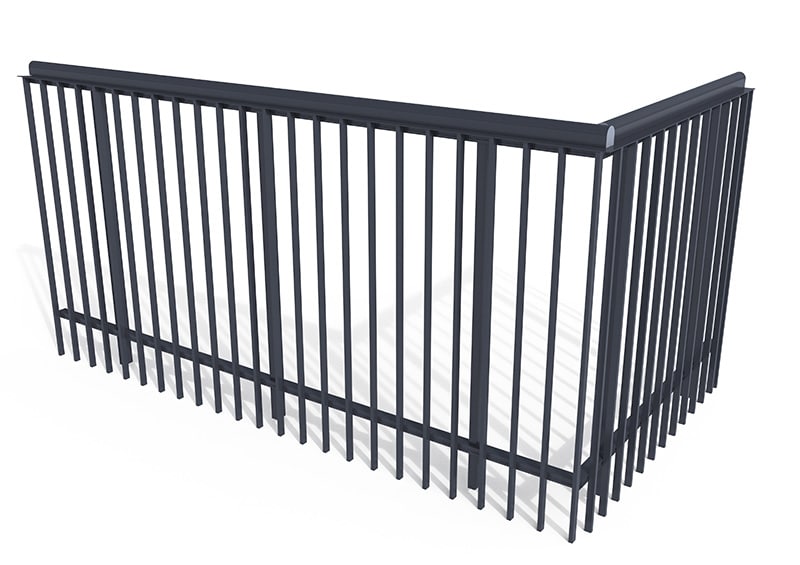 Perforated sheeting
With opening
Clear glass, aluminum frame
With opening
Handrails and floor
When combined with balustrade choice, the handrail gives added flexibility in a balcony's overall aesthetic. Customise the colour to the balcony's cladding or choose one in wood or stainless steel for added character. The choice of floor also contributes to the appearance and style of a balcony. Balco offers several different types of floor, each designed to minimise any damp or maintenance issues
Wooden handrail
Fits aluminum and steel railing
Screens
The need for privacy and protection from the elements is key when choosing materials and deciding on the finish. There are numerous options and we're able to adapt to meet specific requirements.

Partitions
If you want to screen off two adjacent balconies, it often requires a simpler kind of screen. The most common is laminate or glass, which can be customized in a number of different ways.

Side screen
To provide protection from the wind and external noise, there is an option to have a screen attached above the panel. Choose from several different designs and materials. Choose an opaque material if the side screen is also intended for added privacy.
Canopies
For balconies on the top floor, there is no protection from having balconies above. Our balcony systems can be supplied with a canopy for top balconies, to ensure they are protected from the elements.
Hanging and fixing
Once you've decided to renovate your existing balcony or fit a completely new one, one of the most important questions is how it will be hung. The chosen fixing system always depends on the design of the joist system and facade. There are plenty of options when it comes to choice of fixing method. Here at Balco we have a great deal of experience in identifying safe solutions and designs.
Type 1 – Railings with circular steel profiles
Type 2 – Railings with circular steel profiles
Equipped for window boxes.
Type 3 -Railings with flat steel profiles
Type 4 -Railings with flat steel profiles
Equipped for window boxes.
Type 5 – Railings made of tempered and laminated glass
Type 6 – Fiber concrete balcony slab
Successful projects
Since 1987 Balco has delivered thousands of balcony solutions to satisfied clients all over Europe.
Do you have a project to discuss?
Fill in your details and we will get back to you.
We do not do single balconies for private houses.